Authorization for Distance Learning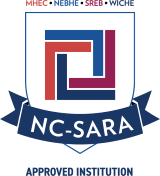 Carolina University has been approved to participate in the National Council for State Authorization Reciprocity Agreement (NC-SARA) which allows us to provide distance learning programs (both online and in the form of supervised field experiences) and coursework to residents of states other than North Carolina. Click here to visit CU's State Authorization for Distance Education page.
Professional Licensure
If you are a student or prospective student interested in an educational program that may lead to professional licensure or a certification, please be aware that as of July 1, 2020, the U.S. Department of Education requires that all higher education institutions advise students as to whether their curriculum meets state education requirements for license and/or certification in the state for which they plan to practice. 
If you are planning to seek a professional license or certification outside North Carolina, it is important for you to know the specific requirements of the state in which you intend to apply for licensure or certification.
Disclosure Statement
Enrollment in a program does not guarantee a degree from Carolina University or qualification for professional licensure. Students are responsible for meeting all academic and professional requirements for graduation.
Prospective students should be aware that each state has different professional licensure and certification requirements governing various occupations. Carolina University works to confirm if its educational programs meet the educational prerequisites for professional licensure or certification outside North Carolina and updates this information each year. Students who plan to pursue licensure outside North Carolina should be aware that state licensure requirements are subject to changes. Students are ultimately responsible for verifying their individual eligibility for state licensure and satisfying any requirements imposed thereby. While a program may originally meet the educational requirements for licensure, changes in requirements could impact the program's ability to meet any new educational requirements.  Students are strongly encouraged to check with their state licensure board to confirm licensure requirements and obtain additional guidance as needed from the respective licensure board.
Important Note for Students: The curriculum for all CU academic programs have been designed to meet the licensure/certification requirements in North Carolina and prepare students to sit for licensure/certification exams in North Carolina. The various licensure boards in each state are responsible for setting requirements for licensure/certification in their state. If you are a student studying at a distance with the intent of returning or moving to any state other than North Carolina, please explore the unique licensing board requirements for that state.
To learn about the appropriate licensing or certification organizations and their requirements, contact information for professional licensing boards or certification organizations is found below.                                                                                   
Professional Licensure Disclosure (All DL Programs Except RN-BSN)
Carolina University participates in the National Council for State Authorization Reciprocity Agreement (NC-SARA). Participation in NC-SARA allows the University to provide distance learning programs and coursework to residents of states and territories outside North Carolina. However, NC-SARA does not grant automatic reciprocity with other states or exempt Carolina University from the professional licensing requirements required by other states or territories.
Carolina University's programs and courses meet the licensure requirements for professional organizations in North Carolina. The University is in the process of determining the licensure requirements for its professional licensure programs but has not yet determined whether its online degree programs meet the requirements for professional licensure in every U.S. state and territory.
Current Students: Your advisor will contact you to determine the professional licensure requirements for the state in which you are located or hope to work.
Prospective Students: An enrollment advisor will provide the professional licensure requirements prior to your enrollment.
Learn more about professional licensure at https://www.nc-sara.org/resources/professional-licensure.
The mailing address for all program directors at Carolina University is:
201 S. Broad Street
Winston Salem, NC 27107
Phone: (800) 937-5097
Criminal Justice
Carolina University Contact: Dr. Heather Burkard
Phone: (336) 714-7920
Email: burkardh@carolinau.edu
https://www.iadlest.org/post-portal
Deaf Studies
Carolina University Contact: Dr. Heather Zimmerman
Phone: (336) 714-7970
Email: zimmermanh@carolinau.edu
https://rid.org/advocacy-overview/state-information-and-advocacy/
Computer Science
Carolina University Contact: Dr. Steve Condon
Phone: (336) 714-7968
Email: condons@carolinau.edu
https://www.computerscience.org/degrees/certifications/
Counseling
Carolina University Contact: Dr. Karina Donald
Phone: (336)714-7975
Email: donaldk@carolinau.edu
https://publish.smartsheet.com/45df46c6e87a424b9db53940a3174542
Data Science
Carolina University Contact: Dr. Jeong Sep Sihm
Phone: (336) 714-7998
Email: sihmj@carolinau.edu
https://www.dasca.org/get-started/how-to-become-dasca-certified
Education
Carolina University Contact: Dr. Johnson Leach
Phone: (336) 714-7970
Email: leacho@carolinau.edu
https://publish.smartsheet.com/4dfcb6a0284545ee895980a8c8b71432
Engineering
Carolina University Contact: Dr. Steve Condon
Phone: (336) 714-7968
Email: condons@carolinau.edu
https://ncees.org/member-licensing-boards/
Financial Planning
Carolina University Contact: TBD
https://www.cfp.net/get-certified/certification-process
Nursing
Carolina University Contact: TBD
https://publish.smartsheet.com/f09beb91e1ef4e31980126505e1a4b81
Psychology
Carolina University Contact: Dr. Rosalie Kern
Phone: (336) 714-7956
Email: kernr@carolinau.edu
https://publish.smartsheet.com/9399c0bec7d74be3aa89849cfc4d6fc4
Public Health
Carolina University Contact: Dr. Amanda Martyn
Phone: (336) 714-7806
Email: martyna@carolinau.edu