Tennessee Temple University Legacy
Carolina University is pleased to welcome Tennessee Temple University and Temple Baptist Seminary as the third school to partner with Carolina University in the strategic formation of the Carolina University network of Schools.
For over 65 years the well-known, historic campus of Tennessee Temple was nestled in the Highland Park community of Chattanooga, Tennessee where the mission to provide Christ-centered higher education that transformed lives for the glory of God was always clear. Since beginning in 1946, over 100,000 students called this place home as they prepared for their life's calling.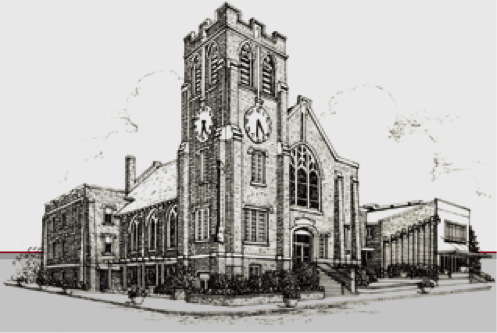 In looking back over history, there are a very few leaders who rise above all the others and accomplish tremendous things for God, influence multitudes of others, and leave an impact long remembered after their death. It would be impossible to look at the great accomplishments of Tennessee Temple without first examining the leader, the founder, the visionary, the man … Dr. Lee Roberson. The hand of God was on him and Dr. Roberson influenced thousands as he built a great church, school and seminary.
As a 14 year old boy, Lee trusted Christ as his Savior because of a faithful Sunday School teacher. He invited his unchurched mother and father to come to his baptism and while there, both received Christ as their Savior. Lee was called to preach at 18 and he was faithful to his calling for 79 years. Even after his retirement Dr. Roberson preached over 3000 evangelistic meetings.
In 1942, Dr. Lee Roberson accepted the pastorate of a small Baptist church in Chattanooga named Highland Park Baptist Church where he served forty years and six months. Under his direction, the church voted on July 3, 1946, to establish Tennessee Temple College where preachers, missionaries, and other Christian workers could receive training and on January 26, 1948 they voted to start Southeastern Baptist Theological Seminary which was later renamed to Temple Baptist Theological Seminary. While Roberson served as pastor, legendary growth was experienced with over 65,000 people added to Highland Park and 38,894 of those came following in believer's baptism.
Through his leadership and longevity, God used him to build one of the great churches of America that provided ministry training for thousands. The ministry in Chattanooga was considered one of the early megachurches of the modern era, and at one point the largest church in America. Dr. Lee Roberson is credited with the statement, "Everything rises and falls on leadership" and he visibly gave it credibility through his life accomplishments.
Under Dr. Roberson's leadership many ministries and educational institutions were created.
Tennessee Temple University, 1946
Temple Baptist Seminary, 1948
Tennessee Temple Academy (grades kindergarten through 12th), 1952
Tennessee Temple Bible School and School for the Deaf, 1949
Camp Joy, 1946, Camp for children and youth, created in memory of Dr. Roberson's daughter
Zion College, 1949 Founded to train African American ministers and church workers which later became part of the network of University of Tennessee.
Union Gospel Mission, 1950, a ministry to the homeless in Chattanooga, TN and a mission in Dalton, GA
Worldwide Faith Missions, 1960 with thousands of missionaries over 10 fields all over the world
Organized a chapel ministry with 77 branch churches at one time and used intern students to work, providing on the job ministry experience
WDYN-FM radio station: "Gospel Dynamite" – the longest running live broadcast of its type in the nation
"The Evangelist" a church paper geared to Independent Baptist movement
TTU Heritage
Lee Roberson was certainly bigger than life but it was J.R. Faulkner who was the logistics man and the "how to" man that made it all come together. Mr. Faulkner served as the co-pastor of Highland Park Baptist Church, vice president of the school and later president of TTU from 1974 - 1985. It was Faulkner who directed the staff of the church and school, organized and ran the chapel ministry, and managed the 400 plus students working for scholarship money. He taught church leadership that instructed the men how to manage a church; he also taught them how to run and grow a Sunday School.
It was the combination of Highland Park Baptist Church and Tennessee Temple University that provided ministry training opportunities for the students through hands on experience which was so vital to each student's successful training and leadership development. At one time, over seventy-seven branch churches were created to minister within a 100 mile radius of the church and accommodate the multitude of students requiring practical ministry experience. Dr. Roberson and his training model became the inspiration for other young Christian leaders who followed, such as Dr. Jerry Falwell who later founded Liberty University; Jack Hyles, Hyles Anderson; Bob Grey, Texas Baptist College and Jack Hudson in Charlotte, NC.
Graduates are quick to state, "It was Tennessee Temple that helped us determine the will of God for our life and the hands on experience and the passion that we caught there prepared us for ministry". The church leadership class and Sunday School training taught by J.R. Falkner, gave them the practical "how to" they needed to build great churches and ministries.
While academic excellence was important, the alumni always state, "It was much more than that at Tennessee Temple University." They repeatedly heard Dr. Roberson and faculty challenge them with an underlying message that created in them the capacity to lead great ministries and live distinctively Christian lives.
Leadership – Everything rises or falls on leadership and without vision people perish
Separated Christian Life – Be Distinctively Christian
Filled with the Holy Spirit – Without the power of God you are nothing
Denial to self – Put God and others first
Urgency - Live a life of urgency
Compassion – Love and care for others
The Gospel – Always tell people about Jesus the Savior
It was repetition of these themes that "rubbed off" on the students or created the passion the students caught while at Tennessee Temple. This was the underlying force that propelled them step up and accept the challenge of leadership in various organizations and ministry.
Tennessee Temple produced many leaders who are tops in their field, including dozens of college presidents and vice presidents, thousands of school administrators and teachers and thousands of pastors. There were also leaders in many other fields, nationally known speakers, radio and TV broadcasters, sheriffs, chief of police, business men and women. In fact, there are graduates involved in all walks of life who passed through the halls of Tennessee Temple and caught the passion and capacity to lead.
Some notable graduates include, Kay Lee Arthur, who is an international Bible teacher, four-time ECPA Christian Book Award winning author, and co-CEO of Precept Ministries International. Dr. Randal Faulkner, retired pastor of the well-known, Metropolitan Baptist Church in Oklahoma City, Oklahoma. Dan Lothian, a past CNN White House correspondent traveling with President Obama to over 30 countries and now co-founder of Heart Beings. Kenneth Gentry, a well-known author and the Executive Director of Goodbirth Ministries and Allison Barber who is the Chancellor of Western Governors University Indiana.
In 2015 it was decided that Tennessee Temple would find a new home at Carolina University in Winston-Salem North Carolina where there was a desire to keep the vision and history of TTU alive. During the merger Carolina University was delighted to add degree programs like Sign Language Interpretation to the offerings as well as the School of Leadership and Temple Baptist Seminary. Carolina University is honored to protect the rich heritage found at Tennessee Temple and continue the great educational experience. Carolina University desires for the graduates to "catch the passion and capacity to lead" as found in Chattanooga , Tennessee at Tennessee Temple University.
In honor of the Tennessee Temple Legacy, Carolina University has established the Tennessee Temple Heritage Scholarship, which offers all Tennessee Temple alumni and their families a generous scholarship when they continue education at Carolina University.
TTU Perkins Loans
As part of the merger between Tennessee Temple University and Carolina University, the Temple Perkins Portfolio was liquidated.